The heat of the Florida Summer is fully underway
And by now most of us are back to drinking iced lattes or cold brew almost every day. While cold brew can be refreshing on its own, let's face it; sometimes you need to switch it up and try something new and craveable. 
We don't think you should have to choose between a refreshing summery beverage and a caffeine boost, so we've crafted 5 simple, but delicious, cold signature drinks for you to enjoy this summer. Before you start, be sure to read our previous blog post on how to make your own cold brew concentrate at home. Brewing your own espresso and making your own cold brew concentrate will give you the most control over the final flavor in these beverages. Because these drinks were crafted with specific flavors in mind, we recommend using the suggested coffees for each drink, but any coffee will likely do in a pinch. 
Cold Brew Lemonade
While you may have had this drink before, we put a few twists on it that we guarantee will make it the best cold brew lemonade you've ever had!
This sweet, tart, and fruity drink has quickly become a go-to beverage at the roastery! 
You will need:
– your favorite lemonade (we like to use Simply Lemonade because it has just enough sweetness to balance out the acidity)
– about 2oz of cold brew concentrate (we prefer the Ethiopia Adado because of its fruity and floral flavor)
– 1/2 oz (or 1 Tbsp) lavender syrup
– ice
– a few lemon wheels for garnish
To make:
1. Follow our cold brew recipe to make Ethiopia Adado concentrate!
2. Add 1/2oz or 1 Tbsp lavender syrup to a tumbler glass. (To make lavender syrup, add some dried lavender to white sugar and hot water, mix and steep for a few minutes before straining) Plain simple syrup is great too in a pinch!
3. Add roughly 8oz of lemonade, or enough to fill the glass a bit more than halfway. Throw in a lemon wheel while you're at it to make it pretty!
4. Add ice until the glass is just over 3/4 of the way full. Top with 2oz of cold brew concentrate. (Be sure to use concentrate instead of diluted cold brew, otherwise it will taste too watered down!)
5. Garnish with another lemon wheel, add a straw and enjoy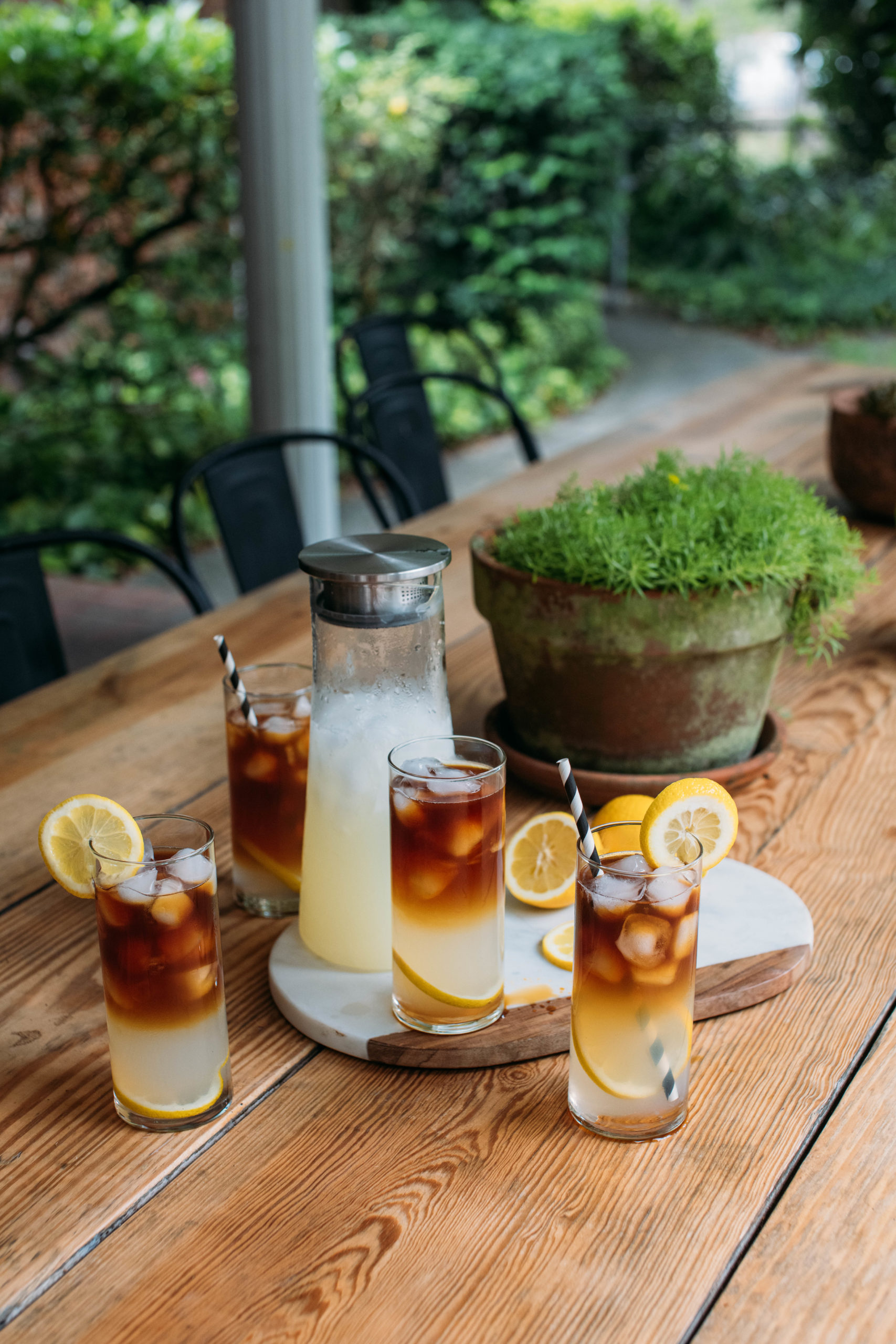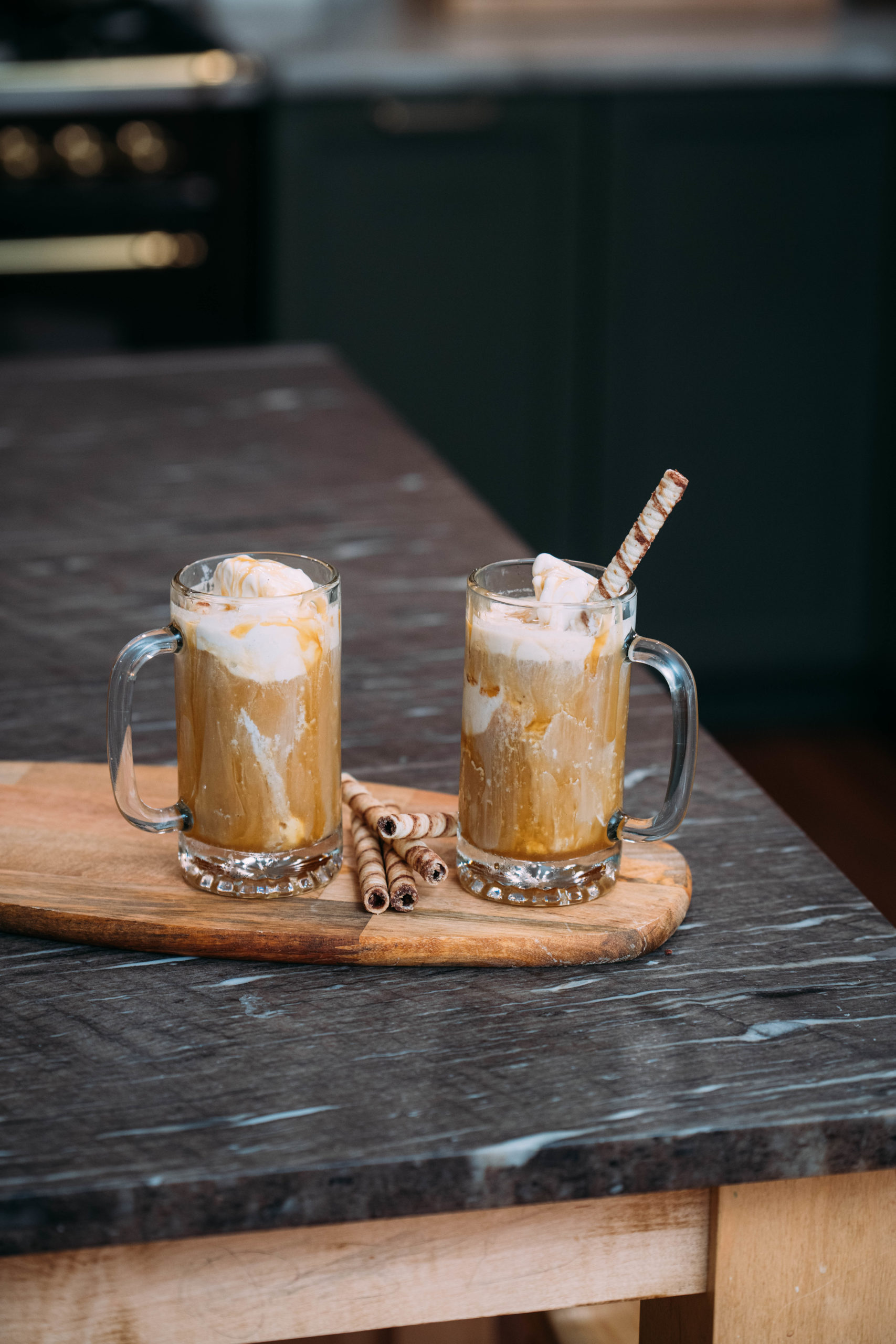 Cold Brew Float
So simple. So delicious. The cold brew float is the perfect afternoon treat, it takes very little effort to make, and it looks impressive enough to share with guests!
You will need:
– 2-3 scoops of your favorite vanilla ice cream
– prepared cold brew (we used our Market Blend)
– Ghirardelli caramel syrup
– optional: a cookie straw
To make:
1. Drizzle the sides of a frosted beer mug with the caramel syrup
2. Add 2-3 scoops of the vanilla ice cream to the mug
3. Slowly add prepared (diluted) cold brew on top of the ice cream. It may foam up so be sure to pour slowly!
4. Top with more caramel drizzle and a cookie straw and enjoy!
The Shakerato
If you're someone that likes espresso or strong coffee flavors without a ton of sweetness, the Shakerato is the perfect mocktail for you. It's essentially a chilled double espresso that's shaken to produce a light layer of foam. If you do not have access to an espresso machine, you can still make this drink with an aeropress!
You will need:
– Double shot of espresso (we used our Guatemala for this drink)
– 10g of simple syrup (about 2.5 tsp)
– 5-10 drops of angostura orange bitters
– plenty of ice (you need enough to not only cool down the espresso, but also to help aerate and add foam in the shaker)
– freshly ground nutmeg
– optional: an orange peel to serve
To make:
1. Pull a double shot of your favorite espresso. We chose our Guatemala because it's got a balanced flavor profile with a creamy body and notes of citrus and stone fruit that pair perfectly with this drink.
2. Stir the espresso and into a cocktail shaker full of ice. Add the simple syrup and bitters as well.
3. Put the lid on the shaker and shake vigorously for about 30-45 seconds.
4. Pour into a chilled glass. Top with freshly ground nutmeg and an orange peel and enjoy!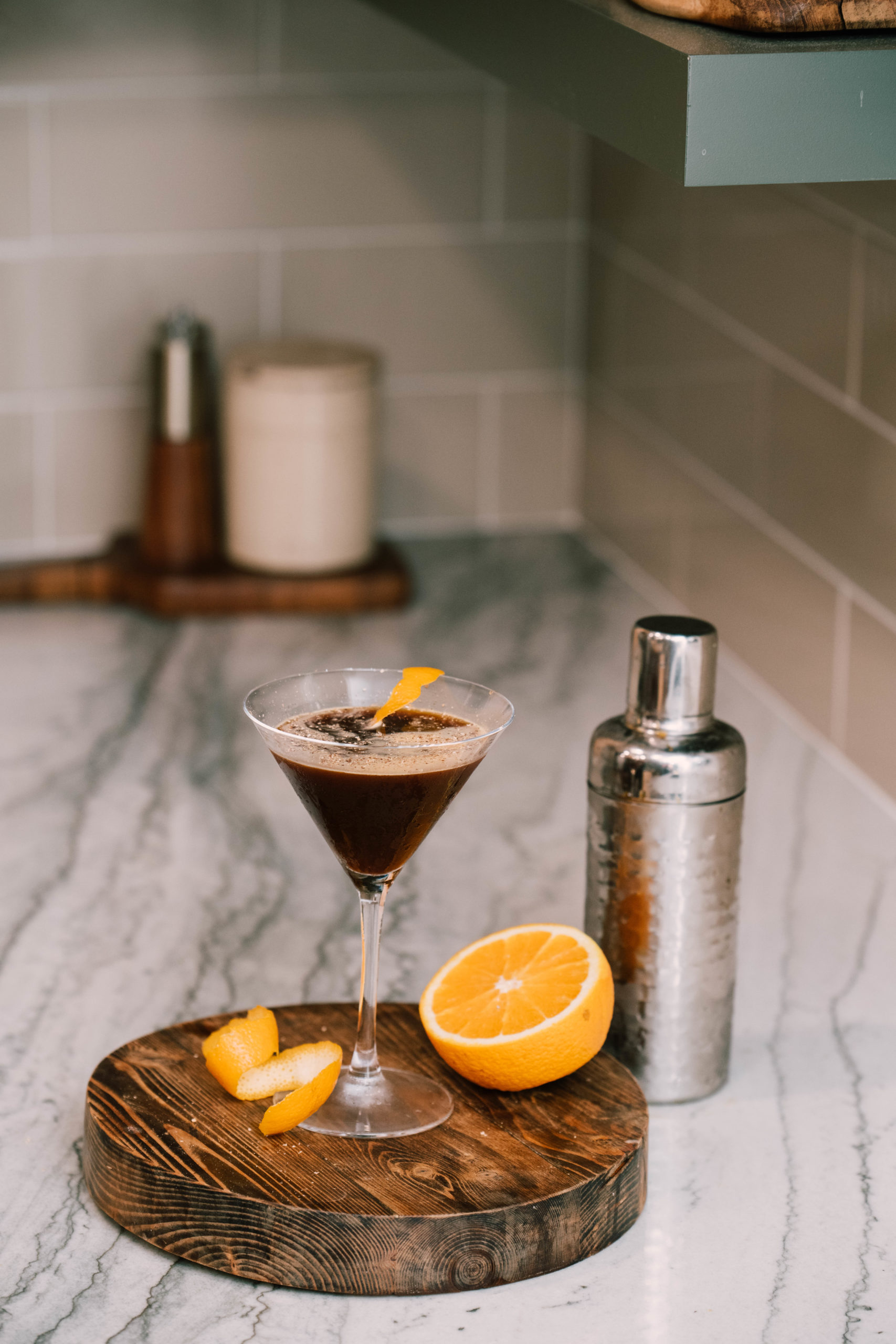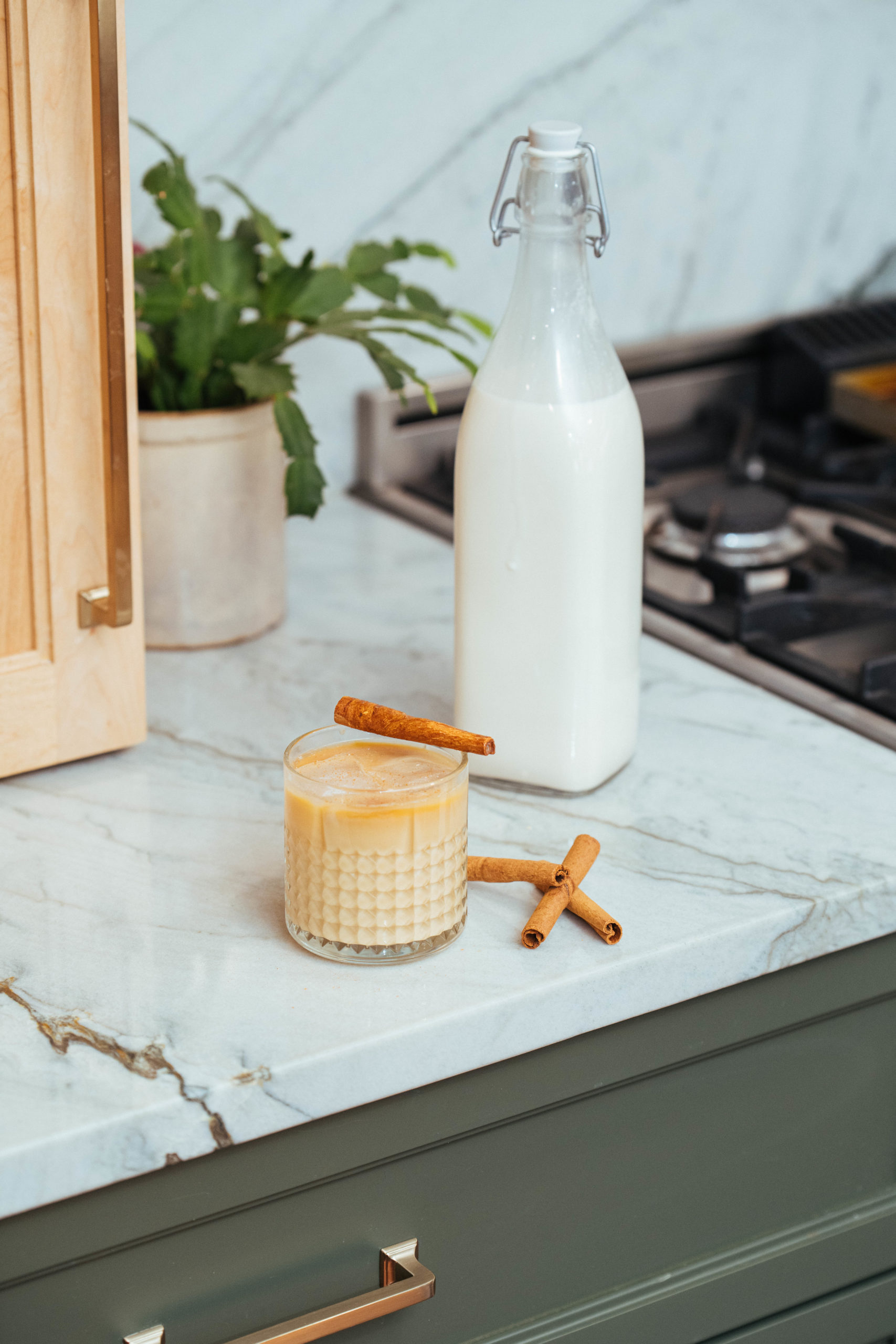 Horchata Cold Brew
We all love a little cold brew with milk, but using homemade horchata elevates your daily habit into something next level. We made our own horchata, which requires a bit more work, but it's definitely worth it! We recommend starting the horchata at the same time as you start your batch of cold brew.
You will need:
– 1/3 cup uncooked brown rice
– 1 cup slivered almonds
– 1 cinnamon stick
– 3 cups hot water
– 2 cups cold milk
– 1/2 cup sweetened condensed milk (or more) to taste
– prepared cold brew (we used our market blend for this one)
To make:
1. Grind rice in a blender until fine.
2. Add the almonds, cinnamon stick and hot water to the blender and stir. Let the mixture cool completely, then cover and let it sit at room temperature overnight.
3. After soaking, add cold milk and sweetened condensed milk to the mixture in the blender and blend until smooth. Add more condensed milk to taste.
4. Strain the horchata through a fine sieve and into a pitcher. Refrigerate until ready to enjoy.
5. Add ice to a glass. Fill half-way with cold brew, then top off with horchata. Add a cinnamon stick for a little extra spice and enjoy!
Peach & Thyme
Espresso Tonic
Sometimes you've just gotta be a little bougie. This espresso mocktail is delicious, classy, and super refreshing for the summer. If you don't have access to an espresso machine, an Aeropress will work just fine in a pinch!
You will need:
– 1/2 of a ripe peach (plus an extra slice for garnish)
– 3 sprigs of thyme (plus more for garnish)
– citric espresso (we used our Ethiopia Worka Sakaro because the flavor profile matches perfectly with this tangy, herbal, and tropical drink!)
– ice
– fever tree tonic water
To make:
1. Peel and slice a ripe peach. Add 1/2 to a cocktail shaker. Add the 3 thyme sprigs and muddle until it's about the consistency of apple sauce.
2. Add ice and a shot of Ethiopia Worka Sakaro espresso to the shaker. Shake it up!
3. Strain into a tumbler (you may need to use a spoon instead of a cocktail strainer). Add a few more ice cubes if desired.
4. Slowly fill the rest of the glass with tonic water (not too fast, it foams up quick). We love Fever Tree tonic water!
5. Garnish with a thyme sprig and a peach slice and enjoy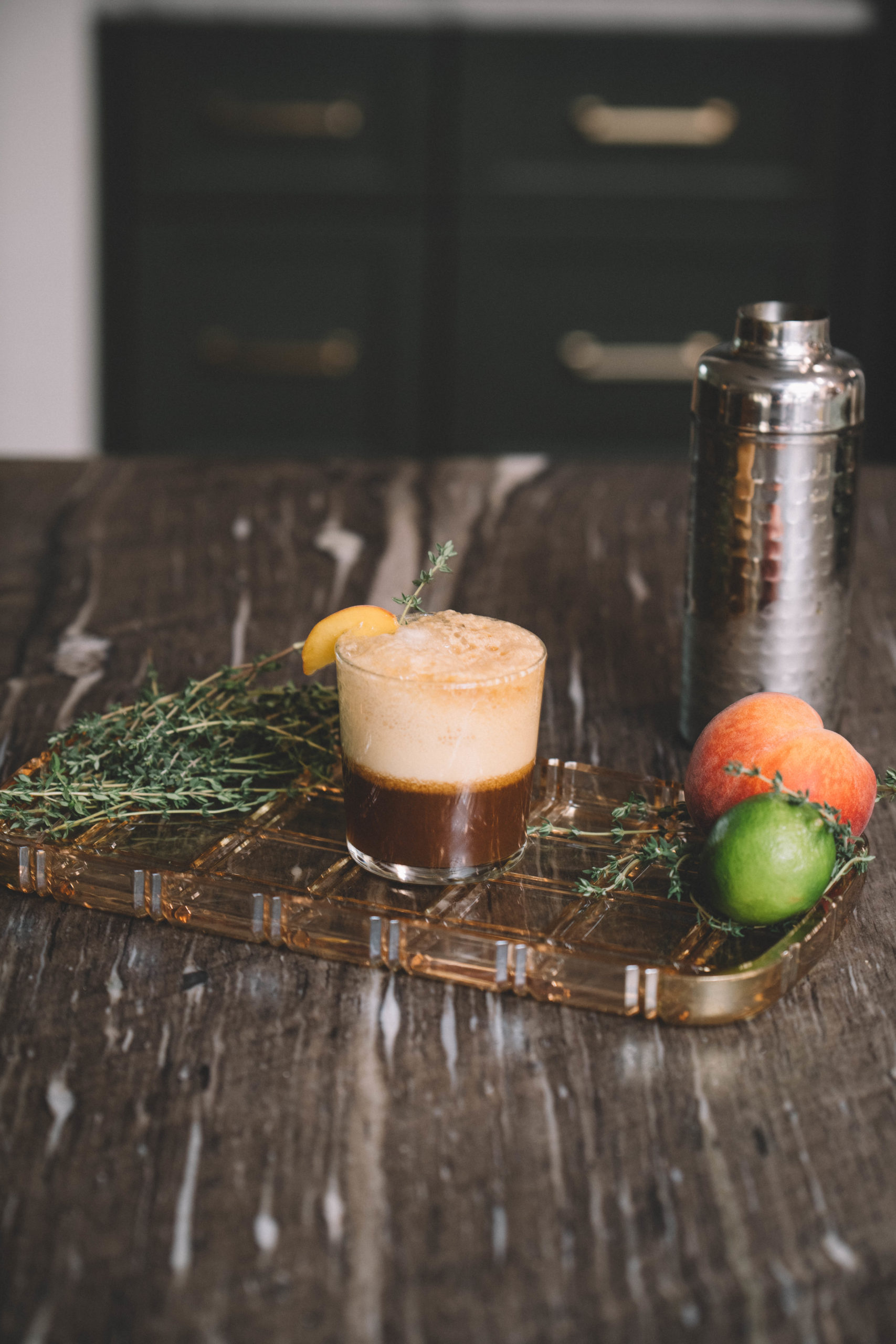 Whichever way you decide to mix it, remember to always start with espresso or cold brew concentrate made from high-quality, freshly roasted coffee beans. Shop our coffees here to get started. Happy brewing! Tag us on Instagram with photos of your creations for a chance to be featured on our account – @patriotcoffeeroasters.