The Legendary Coffee Tour & Stump The Roaster Panel
This week, Chris was asked to join on a panel with other local roasters for a coffee focused Q&A session, hosted by Cafe Imports and Buddy Brew Coffee. The event was part of a larger series of roaster panels and coffee cuppings called The Legendary Coffee Tour. The Legendary Coffee Tour is a travelling education event presented by Cafe Imports, Mill City Roasters, and Sprudge.com. The goal of the tour is to bring coffee professionals in the area together to share knowledge and to inspire collaboration. Surprisingly enough, before this event we had yet to meet our neighbors over at Buddy Brew and Bling Tiger, so we were really excited to get over there and talk coffee. When Joe Marrocco of Cafe Imports asked Chris to participate on the panel, we were even more excited and so thankful for the opportunity to act as a resource for others.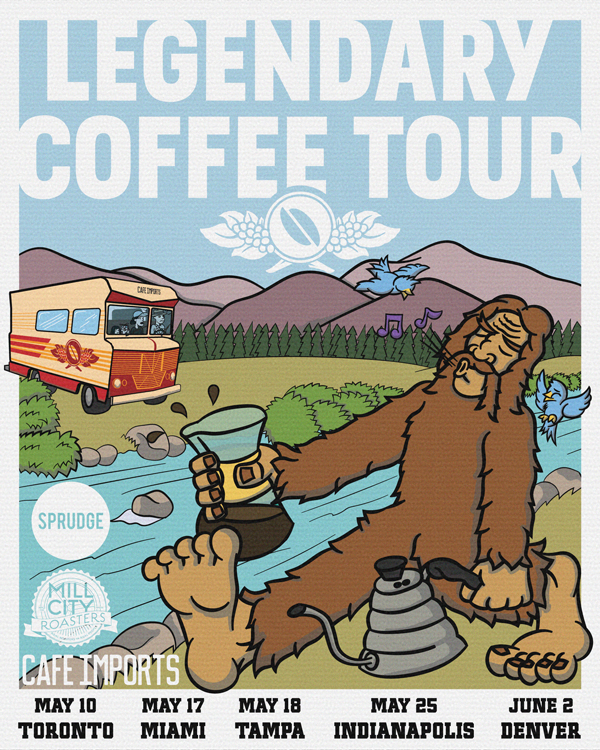 The coffee industry (and specifically the roasting industry) is one that is SO subjective it can difficult to find resources. There is no right or wrong, and there are no hard and fast rules; with so many variables at play, what works for one roaster can be the complete opposite of what works for a different roaster. We've found that, in our pursuit of excellence, the best way to learn is to speak with and listen to other roasters; to learn from their experience, to share thoughts and ideas, to hear different perspectives, and to try out their suggestions. That's why events like the Legendary Coffee Tour are so useful and are imperative to the growth of individual roasters and the industry as a whole.
We are eternally grateful to Joe Marrocco for dreaming up this idea and thinking of us, to Buddy Brew Coffee for hosting, to Mill City Roasters for providing libations, to Sprudge for documenting, and to Cafe Imports for making events like this a possibility. We can't wait for the next one!