FINCA EL TREBOL
In August 2016, we traveled to Colombia for the Cauca Best Cup Competition. The competition, hosted by Cafe Imports, Banexport, and the Colombian National Federation of Coffee, aims to highlight the coffees from the territory. In this way, roasters like us are able to discover and source amazing coffees while rewarding the producers for all of their hard work and dedication to excellence. Over 700 lots of the best coffees from Cauca were submitted. Through countless cuppings, these coffees were painstakingly narrowed down to 30 incredible lots. We had the pleasure of joining coffee professionals from Russia, Singapore, Canada, South Korea and the U.S. in tasting, scoring and ranking the top 15. The competition culminated in a raucous live auction at which we purchased the Finca El Trebol lot from farmer Obdulio Ramirez after a brutal bidding war with several other roasters. You can read more about our origin trip here.
This incredibly sweet, bright, and nuanced coffee stood out in a lineup of exceptional coffees in Colombia and continues to blow us away, weeks later.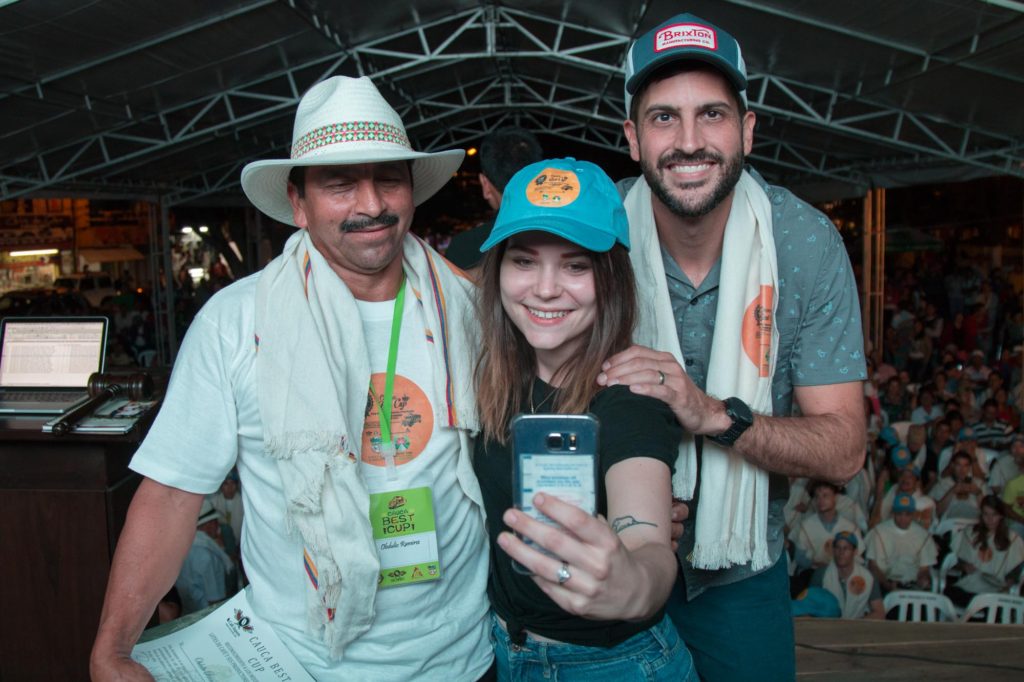 PATRIOT TEAM PICKS
After selecting the roast profile for each coffee, we then brew the coffee on multiple brewing apparati to determine which method makes the most of the coffee's strengths.
SUMMARY
The Finca El Trebol generally holds its own across various brewing methods, offering only subtle differences in flavor, aroma, and body depending on the apparatus used. This made ranking the brewing methods a little difficult for us, but it's great news for you home brewers. You can rest assured knowing that whichever brewing method you choose (keeping in mind your variables for success), you'll end up with a great cup of coffee which showcases a lot of what this auction winning lot has to offer.
First Choice – Drip (OXO Barista Brain)
Surprisingly enough, we felt that a regular drip coffee maker made the most of what this coffee has to offer. It was soft, creamy, and balanced, with tons of sweetness presenting as toffee and caramel. It had a slight cherry note with effervescent (but not aggressive) acidity and a hint of sarsaparilla as it cooled, reminding us of a crisp birch beer. These tasting notes, coupled with the fact that a regular drip maker is arguably the simplest coffee brewing method, made selecting it as our first choice a no-brainer.
Second Choice – Chemex
At a very close second place, the Chemex produces a remarkable cup of coffee. It was just as sweet as it was on drip with the same notes of toffee and caramel. The acidity was heightened on the Chemex, presenting itself as a sweet and tart key lime. It was only edged out of first place because it was lacking some of the nuance provided by the drip maker. Those who love a little more acidity will be more than satisfied with what this brewing method offers. We do, however, recommend using a 17 or 18:1 brewing ratio for this coffee. Anything lower could potentially leave you with a pithy, slightly bitter, aftertaste.
Third Choice – Aeropress
As the drip maker sang birch beer, the Aeropress shouted limeade. Still a solid cup of coffee, the Aeropress offered us a bright, sweet, slightly tart brew that we thoroughly enjoyed. Compared to the drip maker and the Chemex, however, this cup was a little less nuanced and therefore less appealing. When we compared tasting notes, we unanimously agreed that it had an overpowering (though pleasant) acidity that tasted just like limeade. If that's your jam, go with the Aeropress. For a more complex cup, stick with the drip maker or Chemex.
Not So Much – French Press
While we didn't necessarily dislike the brew provided by the french press, it left something to be desired. We were surprised by the pleasant (albeit mellowed out) acidity and relatively clean finish present in this brew – likely a result of the coffee's processing at origin. However, the flavors were muddled and the nuance eliminated, leaving us with a balanced, but very boring, cup of coffee. Ultimately, the french press didn't showcase the 89 point coffee in the way (we feel) it deserves. It's a decent cup of coffee, but if you want to taste all that this lot has to offer, we recommend using one of the other three brewing methods.
You can buy this coffee here.
For tips and tricks, head over to our brewing guide, or feel free to comment or email us with questions.