Back in August, the Patriot Team spent a week in Popayan, Cauca, Colombia at the 2016 Cauca Best Cup which culminated in a live auction of the Top 15 coffees in the region. After some intense bidding wars and a few shots of aguardiente, our team won two amazing coffees.
We're so excited to finally be able to share our auction coffees with you.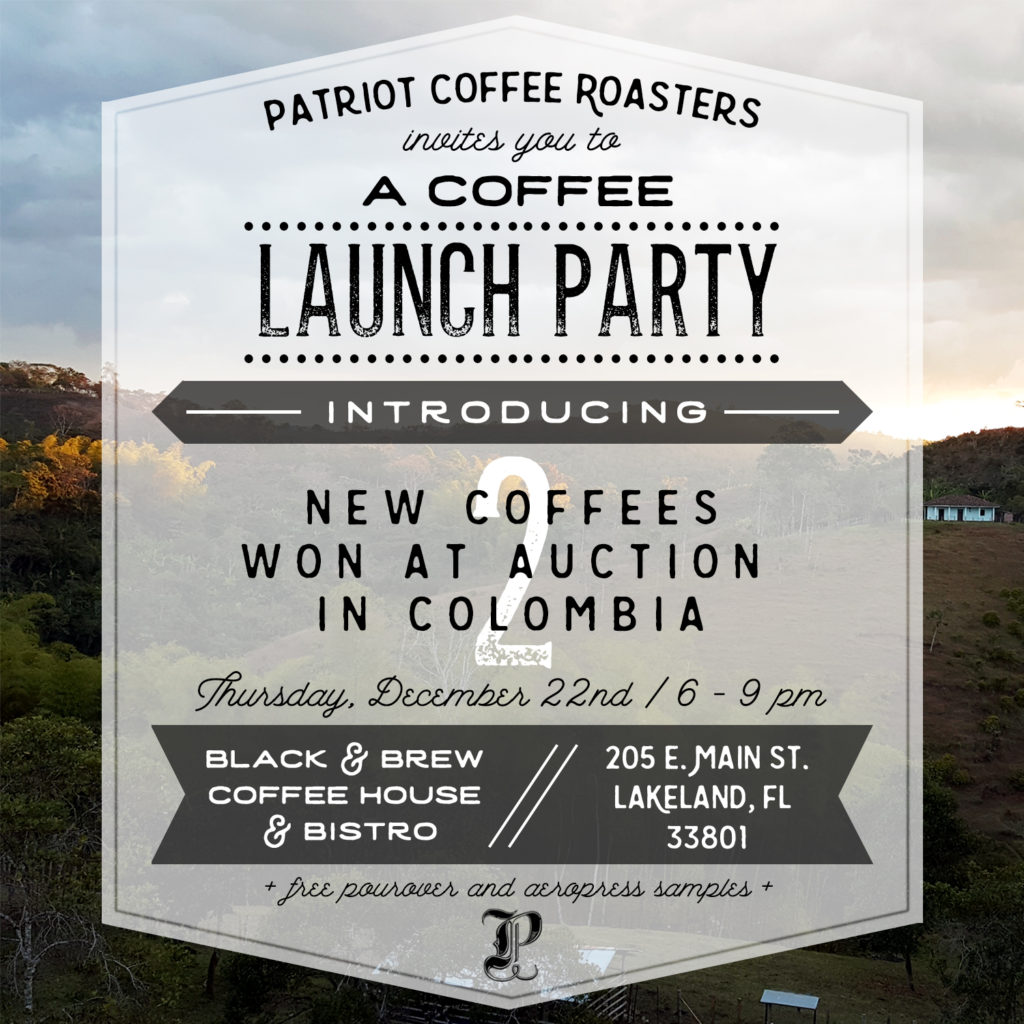 Cauca Best Cup
The Best Cup competition, hosted by Cafe Imports, Banexport, and the Colombian National Federation of Coffee, aims to highlight the coffees from the territory. In this way, roasters like us are able to discover and source amazing coffees while rewarding the producers for all of their hard work and dedication to excellence.
During the summer harvest period, Banexport collected over 700 farmer submissions for the competition. The coffees were painstakingly cupped and re-cupped, ultimately being narrowed down to the Top 30 coffees in Cauca. We had the pleasure of joining coffee professionals from all over the United States as well as professionals from Russia, Singapore, Canada, South Korea, and Colombia in tasting, scoring, and ranking these Top 30 coffees.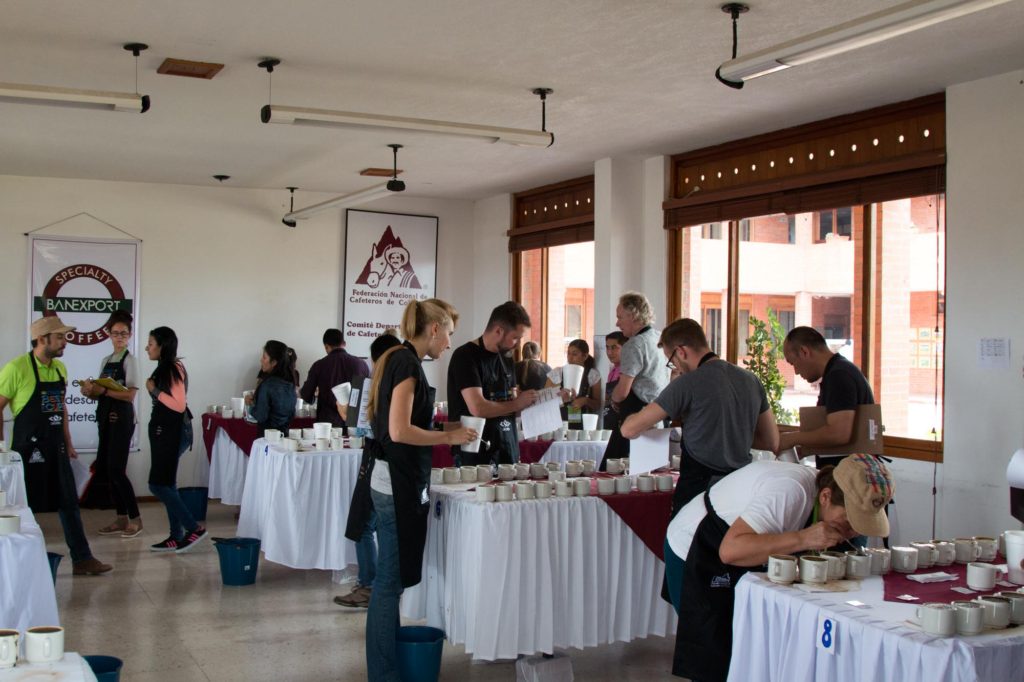 Over the course of 3 days we cupped a total of 85 coffees, narrowing them down to the Top 15 along with some regional select and experimental coffees. It may not sound like it, but let me tell you, it is tough work! It requires an immense amount of focus and is very demanding on your palate. Luckily for us, we were kept well hydrated and well fed for the duration of our trip, enabling us to power through. Maybe a little too well fed (we're talking 6 meals a day.)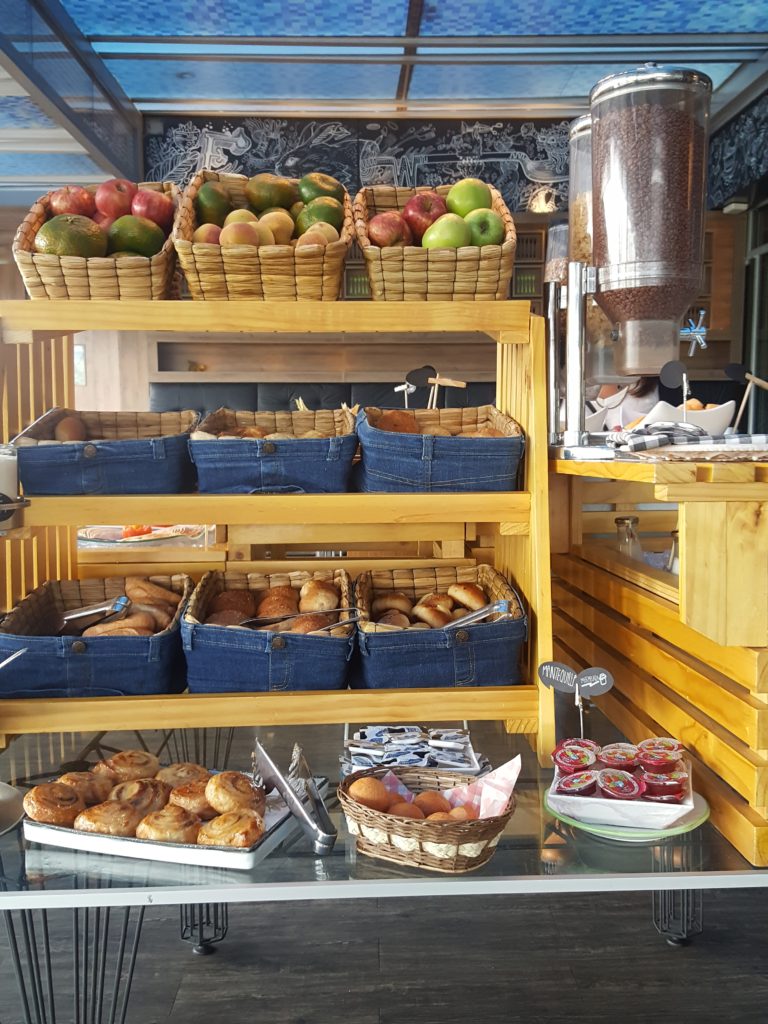 Often, and unfortunately, in our industry coffee farmers deliver their product to town and never see where it goes or what it becomes. So it was really nice to see that some of the farmers were able to hang out and watch while coffee professionals from all around the world were cupping their coffees.
When we weren't cupping and scoring coffees, our group had the opportunity to visit farms of various sizes (from 1 hectre to over 100 hectres of land) to meet the passionate producers who have worked so hard to cultivate these world class coffees. We all piled into our chiva bus, blasted reggaeton and strobe lights, and drove through the mountainous terrain to the farms. It was a scary fun time. (One night it was raining, so we closed the shades to keep dry. It was like being in a club but with the added fear of imminent death.) Being able to see the crops and meet the farmers elevated our appreciation of the entire process to a level we hadn't thought possible. Aside from that, it was really fun! We went on hikes through the farm, rode in a horse-drawn cart (much to the horse's chagrin), and swung around on a maypole. Probably one of our favorite memories of the trip is when one of our farm visits ended with a muddy soccer game in the rain alongside the Banexport crew. Our team won despite some minor injuries.
Our trip concluded with a truly ineffable and overwhelming live auction in the small town of Timbio. An agricultural fair was being held that day with presentations, vendors, and food. That, coupled with our auction (which many people travel to watch), made for an insane evening that we will never forget. When we stepped out of the chiva, we were led down a camera-lined red carpet to our places at the front of the stage while the audience took photos with us and reached out to shake our hands. During breaks, dance groups performed for us and audience members grabbed us and asked us to take pictures with them and each of their family members.
The bidding wars began early and often, with producers surrounding us shouting "Alto! Alto! Mas! Mas!", shaking our shoulders, and handing us shots of aguardiente. We were sitting on the end, so we experienced the most of it. Some lots quickly rose to over $11/lb of green, unroasted coffee (not including import costs) with the #1 lot receiving $22/lb from Cafe Libre in Seoul, South Korea. They were stone cold killers throughout the auction – straight faced with sunglasses on, not even entering a bid war until the coffees were already at $8 -9, and bidding up until they took the coffee home.
We fell in love with two coffees during our cuppings – #14 Finca Villa Luz and #7 Finca El Trebol. These wonderfully complex, bright, and nuanced coffees stood out to us in a group of exceptional coffees. After a fierce bidding war with Elixr, we prevailed and secured our top picks. We were so happy to win the #14 and #7 coffees! When the bidding was over, we ran up to the stage to meet and hug the farmers who produced the coffee, thanking them for their work, and taking pictures with them and their whole family.
We are so excited to share these coffees with you.
The Cauca Best Cup was an unforgettable experience that we hope to continue with every year. We were taken aback by the hospitality, generosity, and gratitude the producers showed us; we are eternally grateful. Our only hope is that they know how much we value them and all their hard work as well. We had an amazing time working with fellow coffee professionals, visiting and learning about the farms, and drinking some of the best coffees Colombia has to offer. We hope you are as excited to try these coffees as we are to share them with you.
To Cafe Imports, Banexports, The Federation of Coffee, and the producers – Muchas gracias a todos por su trabajo duro, hospitalidad, y café excepcional. Viva Colombia!
And a special thank you to Quills Coffee, Oneline Coffee, and Dunn Brothers Coffee for splitting the lots with us.
Remember to join us on Thursday, December 22nd for the official launch. We'll be serving up samples of our auction coffees and stories from our amazing trip. See you then.